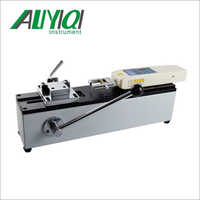 ADL Terminal Force Tester
Product Description
Technical Specification
Digital push-pull force gauge
Model: HF-500.
the maximum load: 500N (Kg, N and ib three units can be automatically converted).
resolution: 0.01N.
Accuracy: ±0.5%.
Output Interface: RS 232 9 hole socket.
Power: Charging power: 220V/AC; Battery continuous working time: 6 to 8 hours.
stability: temperature drift: 0.2uV/°C (0~60°C); zero drift: ≤ 0.1%/8 hour/FS.
calibration range: full scale calibration.
Ambient temperature: 0 to +60°C.
Environmental humidity: ≤ 80%.
Allow overload: 150%.
Power supply: No. 5 nickel-cyanide battery pack /220V AC Charging for 4 to 6 hours.
Pointer force gauge
Model: NK-500.
maximum load: 500N (50Kg).
push-pull rod stroke: 10mm.
working temperature: 20°C & plusmn; 10°C.
Transport temperature: -27°C to +70°C.
relative humidity: 15% to 80% RH.
Working environment: There are no earthquake sources and corrosive media around.
The customer can configure the dynamometer with the corresponding specifications as required:
The pointer force gauge specifications are NK-10, 20, 30, 50, 100, 200, 300, 500.
Digital push-pull gauge specifications are HF-2, 5, 10, 20, 50, 100, 200, 500, 1000 and so on.